Windows Live Writer from Microsoft is one of the excellent tools for bloggers. Live Writer is one of the best ways to assemble, write your posts offline on your Windows PC, and later upload them on your blog.
Live Writer is not exactly new, and has been on the writing scene for quite some time now. But it is not quite popular either. This is an attempt to outline who can use Live Writer, and when.
Get Started
Getting started in Live Writer is easy. First download Live Writer. The latest version as of this post is delivered as part of Windows Essentials 2012.
The install itself is a smooth process, as is expected from a Microsoft program. Once you are done, fire up Live Writer from the shortcut in the Start menu.
All Windows users will feel right at home with the user interface. The first step to do is to connect to your blog. Go to 'Home' tab, click on 'Add Blog Account'.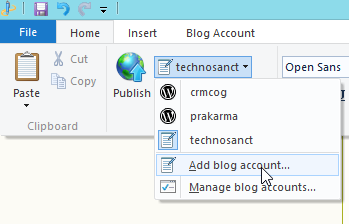 Live Writer has support for commonly used blogging platforms. You can rely on it to find out automatically which platform you use.
Notable exception here is support to Drupal platform. Live Writer is not supported on Drupal platform, which I miss the most for my Drupal site (another story). The connection to your blog also includes a step to get the current theme from your blog so that what you write here is what you get on the blog.  You can also connect multiple blogs, and you get to choose which blog is the post intended for.
Start Writing!
Go to 'File' menu > 'New Post' and start typing away. At the bottom of the page, you can 'Preview' what you typed, or also do some changes to the source in the 'Source' tab (useful to include HTML / JavaScript and the like). Once you are satisfied with the preview, go ahead and 'Publish' by clicking on the big button thoughtfully places in 'Home' tab.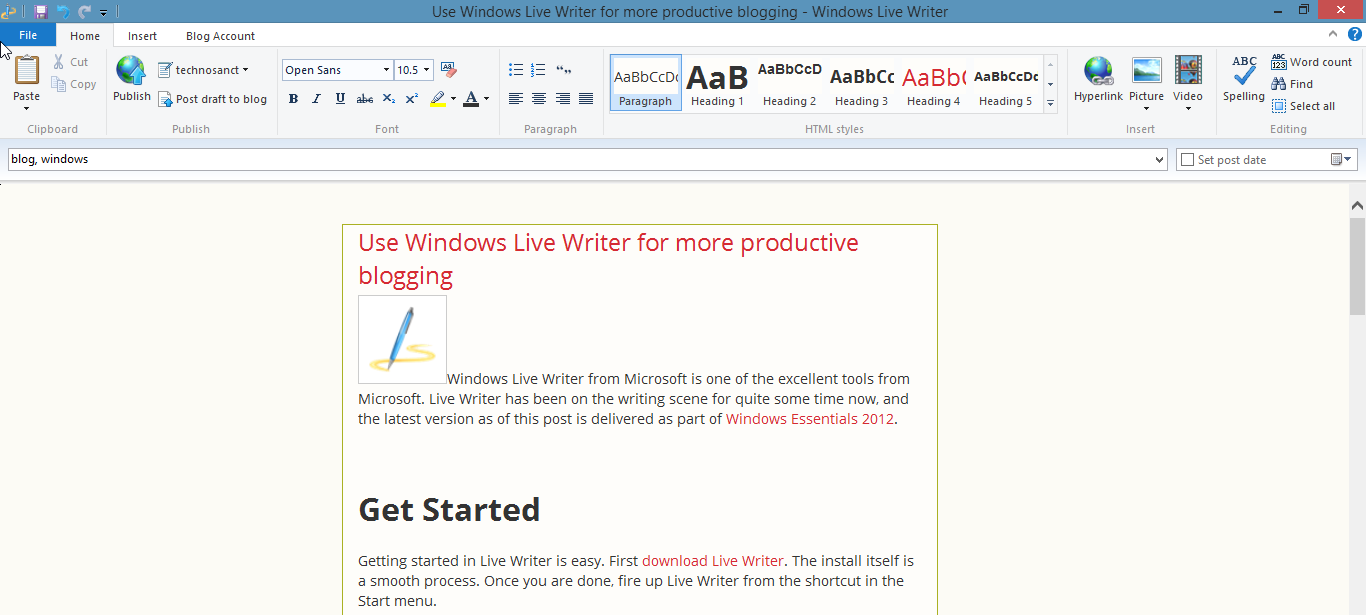 Why you would want to use Live Writer?
What Live Writer offers is a way of creating/editing your posts. Though this can be done in your native writer, or by using plugins, there are too many features that makes Live Writer stand out.
Type posts, and navigate within the post or across posts in a *really* easy way. You get all the great features of an offline editor, and the assurance that the post will not change when you upload to your blog
Spell checks work, and so does "find" and all the shortcut keys that you are so in love with (Ctrl+B, Ctrl+K)
Preview is great. You can exactly see how your posts look like once published
Setting fonts, headers, paragraphs, highlights etc. is real easy. The fonts are copied over from your theme in the blog, and you can retain them, or choose to override them for specific posts
You can set categories, tags and other taxonomy information as supported by your blogging platform, and also set a date for publishing the posts – all without leaving the editor window and with no refresh of screens or fear of loosing work because of bad connectivity
Insert pictures from your desktop or from the web, insert videos and photo albums. You get to see the exact size of all these objects and also change them
You can create new posts or edit existing posts, you can also post drafts to the blog
The best thing of course is to hide all the non-essentials and focus on the writing!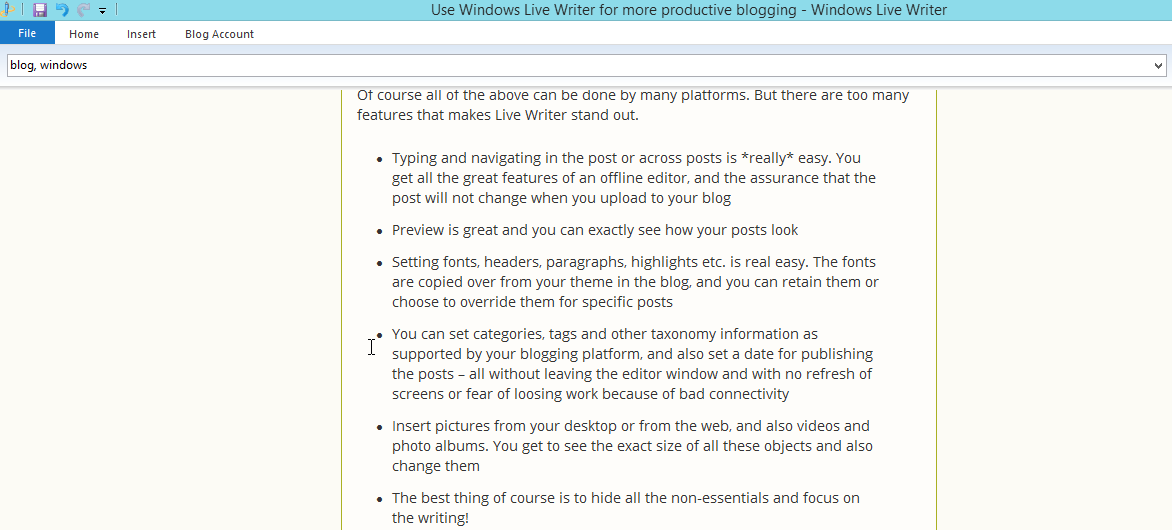 I only wish I had researched and known Live Writer before. I lost one too many posts because of my stupidity in not saving increments, and spent far too much time on changing the formats in default WordPress or Blogger editors.
Why not to use Live Writer?
Before you rejoice, be cognizant of one fact. Live Writer has sort of fallen on the way side. Though it works on both Windows 7 and Windows 8, the latest app Essentials bundle for Windows 8 does not have Live Writer. Things can change pretty fast in the technology world, and sooner or later the platform will stop working.
You should take a really hard look at one more fact. Platforms like WordPress have many plugins that provide valuable help to write your posts that are also understandable by search engines in the right way. I sorely missed this in Live Writer.
In conclusion
Use Live Writer for regular posts. But revert to more powerful, plugin assisted writer for your more serious posts. If you are maintaining your blog on blogger, switch over to Live Writer. That is a productivity boost that you will welcome.