This is another piece of bad, useless advice. So, go away.
If you intend to stay on, do not believe all that is written here. This is my disclaimer.
But for many good things that can happen to you while buying a product/service on internet, there are tonnes of really bad things that Internet Marketing offers. One of the things I hate is the discount pushed to me when I am trying to navigate away from the page, or when I try to close the browser window.
Yes, I am often on the internet to buy a product. Yes, I like someone talking through what they have to offer, and how wonderful their product is. I also appreciate any feedback they had from their older customers.
I do appreciate a best offer, and a discount – however artificial that sounds.
But, that does not mean I like silly marketing tactics.
A typical sales page (including some landing page, a "squeeze" page, some funneling) will be about 4-10 pages long. Not all of it content. There is a lot of pleasing colors, a lot of bold/large sized font urging you to take action, and a lot of shiny buttons that ask you to click them time and again. Here's an example.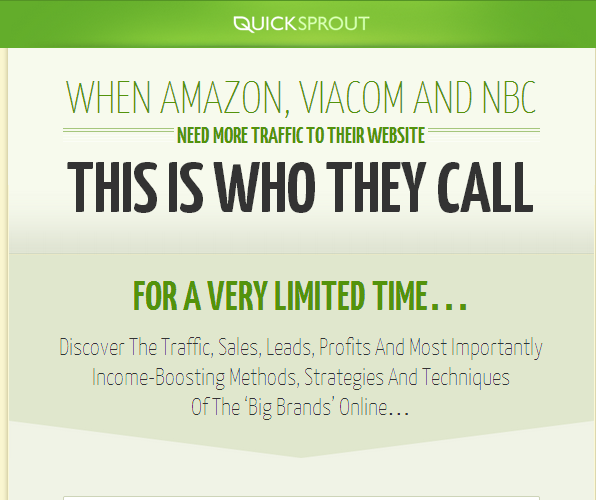 The further you go down, it is fairly obvious that someone interested is going through the page. So, the selling kind of grows as you scroll down. You have customer testimonials, how the product or service can solve many of your existing issues including toilet training your dog, and so on. You see the price about a zillion times now against those clickable shiny buttons.
In our example, with more than 1.5 MB the page goes on over 39 pages to establish and re-establish one fact – get QuickSprout Traffic System Pro, a product that can help you make whatever you are doing in the internet better than current state. All the interesting facets mentioned in my earlier post are here and then some. Start with clear typography, shiny images, good feedback from existing customers and follow it up with clear call to action at least 4 times to buy the product at a fraction of the price that big corporations pay. Nothing wrong with all that – been there, seen that elsewhere, but what got me to write this post was this. When I browsed till the end, I get the following page: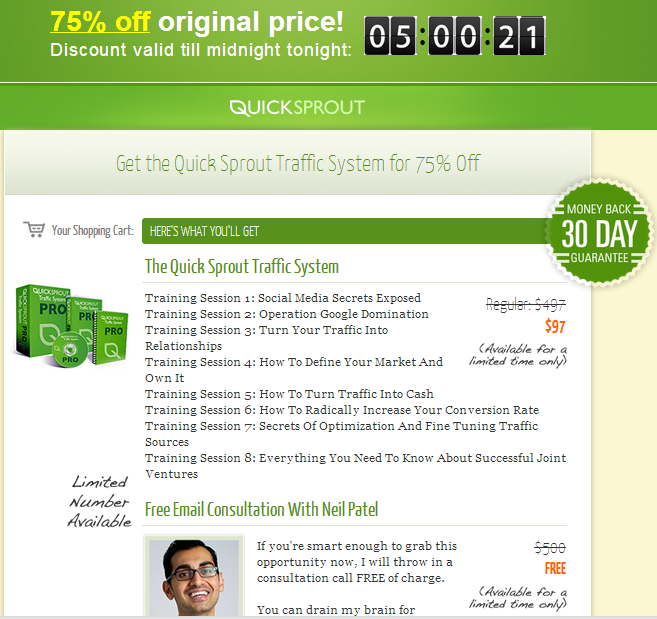 Bam! Hit by a heavy discount – just because I was trying to leave the page/site.
Well, this can mean three things for me:
If I am really interested in the product and if I am already a convert when I reach the sales page, I am going to buy at the first or second buttons. So I miss out on the 10-90% discount offered later
I learn not to trust the guy/company offering the discount. Instead I end up searching all over the internet again for best offers and continue to hold off on the buy
I do not trust the guy/company to stick to their promises. I would buy only when I know enough of it, else give it a skip.
I appreciate the discount, I really do. But making this offer at the very last moment represents sneaky marketing in my book. I get rattled a bit whenever people claim to provide me that "one last chance" to change my life "at an amazing 75% discount just because I am leaving now", and "I have the last last last 1 hour to buy" – especially when some poor sod has purchased it paying 75% more, and that poor sod happens to be an older fan of the product/service.
This is especially sad when respected sites like in the example fall back on those tactics. Though this may be in the front page of some marketing bible, and the site owners can pat all they want on their backs, this kind of marketing is not for the people with longer term business plans. It makes intelligent people (not much unlike myself) feel let down, and that is something sellers can easily avoid doing.
Do take a note folks – the original content authors on the mentioned website and related affiliates make a tonne of money, have big-time followers and fans, and are highly successful. But don't you just hate it when someone does this?