Two things are guaranteed in WordPress:
A powerful, stable platform that enables you to run websites without technical knowledge
Infinite extensibility through plugins and themes
We have seen themes before. Here you will see the top 5 essential WordPress plugins that must be in the install base of any WordPress blog. All of the plugins listed here are available for free.
1. WordPress SEO
Known as Yoast SEO earlier, this is the first and very first plugin you must have. 
 WordPress SEO helps your blog befriend with the search engines. It works at two levels:
For the entire site/blog

Reminds you to enable permalinks, enables you to disable certain pages for search engines
Generates meta and link elements beyond what WordPress can do
Generates XML sitemaps, and synchronizes them with search engines

For each page and post

At the time of writing posts, you will exactly know what the meta tags are, and what you can do to make them effective
Do a detailed analysis of content to know whether it is search engine friendly 
 Wordpress SEO is my favorite plugin of them all. You achieve big jumps in search engine results by doing simple enough changes suggested by the plugin.
2. Better WP Security
WordPress sites are secure, but it will not hurt to get better. Since WordPress is used by majority of the blogs and websites, hackers will exactly know the simple things that website owners overlook. Better WP Security closes these loop holes.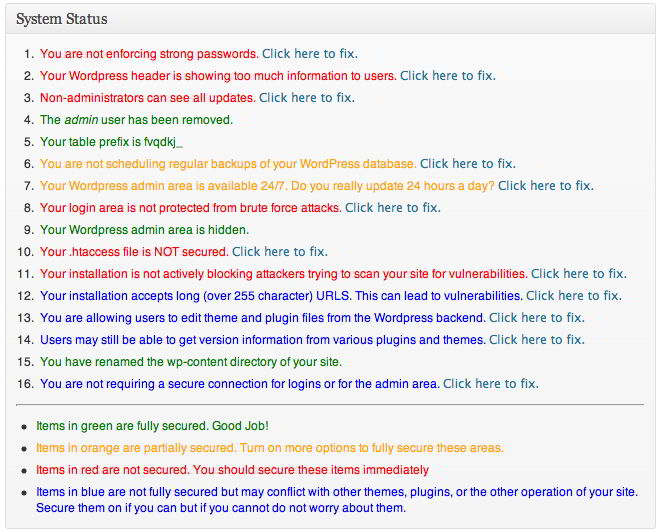 WP Security is easy to use. You just run it to scan potential vulnerabilities, which are classified into understandable green, blue, orange, and red coloured issues depending on severity. Just click on the "Click here to fix" link to fix problems, or see detailed instructions for the fix.
Following are some of the issues that WP Security can help you fix:
Change admin dashboard URL, and WP Content path. This makes it harder for hackers to launch a successful attack based on the WordPress defaults
Change the default database prefix, and change the user id from the default 1
Get blacklisted bots, user agents, and ban them from site access
Prevent brute force attacks by banning users and hosts with too many unsuccessful login attempts
Detect attempts by bots to search for vulnerabilities
Force SSL on supporting servers for admin area, and for pages/posts
3. W3 Total Cache
What will it take to boost your website speed by 10 times?
Well, nothing – because W3 Total Cache does that and more. And, doesn't cost a dime. W3 Total Cache provides multiple performance boosters for your website or blog.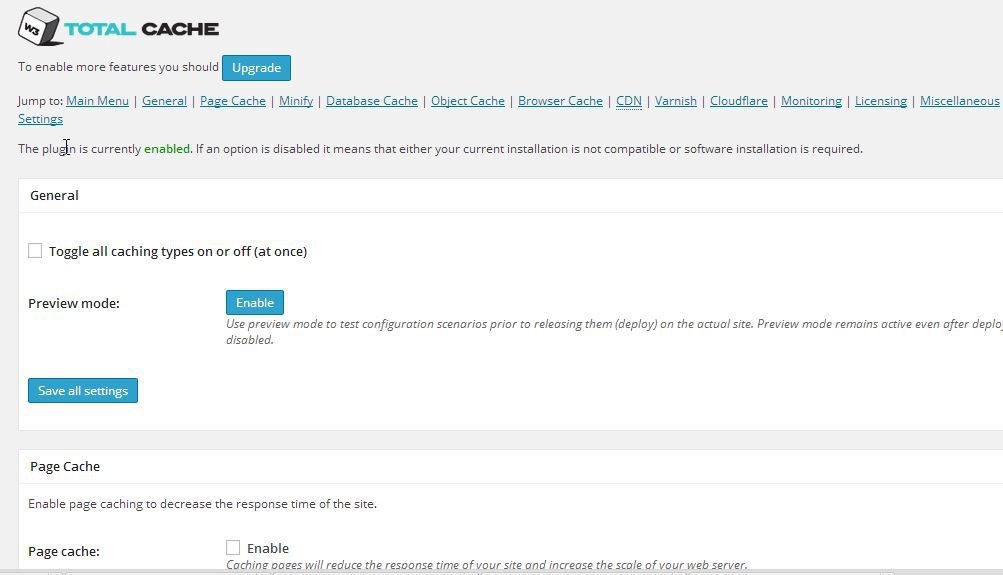 A rundown of key features below.
Provide better browser caching leading to instance page views
Render pages progressively. From a user perspective the website looks like loading instantly
Reduce page load time
Reduce bandwidth by compressing and minifying HTML, JavaScript, and CSS

Improved

site rankings

 on Google

Cache compressed and minified pages, posts, CSS, JavaScript

Cache database objects
Embed non-blocking JavaScripts for better perception of performance in the browser
You do not need any special infrastructure, or access to the server to use W3 Total Cache. Just deploy the plugin, accept the defaults, perform any other tweaks to configuration, and relax.
4. BackWPup
I used to frown at frequent back ups. I tend to take a back up while doing major changes to the website, and that was about it. Since the blogs run more or less on auto pilot (except for the posts, of course), I found it annoying to take a back of of WordPress sites folder and the database. 
And, I got hit big. While trying to clean up the WordPress folder of unneeded files, I accidentally deleted a sub-folder. This folder happened to be linked to a separate domain, and the entire website promptly went down.
You can imagine my horror.
It took me at least 4 hours to restore an old backup, and recreate some files. Thankfully, the database was intact and I could get back on track pretty quickly.
Hence, I became a convert.
Taking backups need not be a laborious exercise, in fact it can be completely automated – BackWPup is a free, effective plugin for the purpose.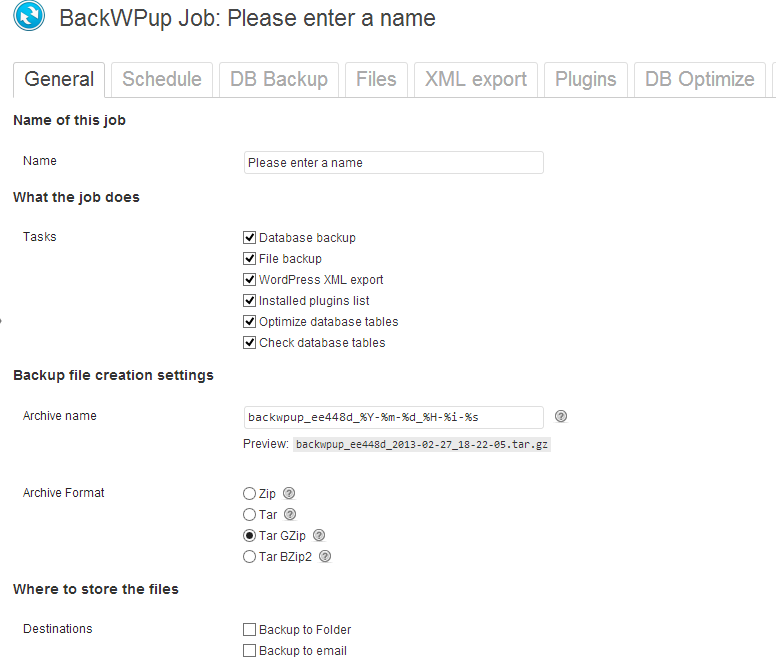 BackWPup allows you to run and schedule regular backups of crucial WordPress folders and the database. No more accessing the file through FTP, or fiddling around with the folders. The backup files can be placed in a specified folder, emailed to you, or sent to your Dropbox folder (recommended!).
Let us look at a few features: 
Backup database, and the website folder
Backup entire plugins, or just the list (you can always download them later)

Check database, repair the database where required, and optimize database

You can take backups and compress them in zip, tar, tar.gz, tar.bz2 format



Store backups in the same folder, a FTP server, in Dropbox, Rackspace Cloud or SugarSync
Send backup status (or the entire backup) through email
5. Broken Link Checker
 This is the simplest tool of all the plugins listed here, but one of the most useful. Broken Link Checker does a really simple task – scrapes through all the links in your blogs that are not valid, and let's you correct them.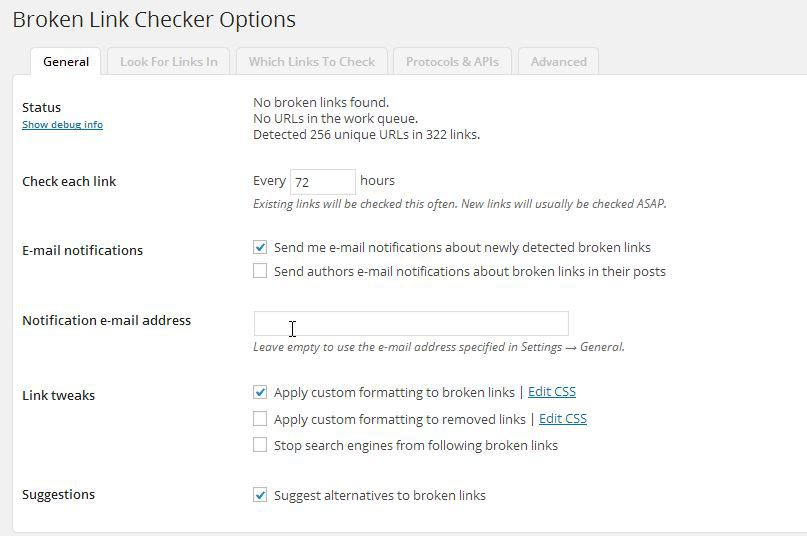 Looks simple, but for a blog of 1000+ posts and ~50 pages, this is a God send. You do not want your users click invalid links, it frustrates them and gives them a picture of a careless website owner. You certainly do not want Google to find out that you have too many bad links. That will negatively affect your rankings. 
Broken Link Checker scans your blog in the background, and reports any links that need to be corrected. A full feature list below..
Monitors links in your posts, pages, comments, and blogroll in the background. You can specify the monitoring frequency
Finds invalid links, and missing images. You are notified through email and a dashboard
Invalid links are tagged to actions. You can easily see those links, correct them or remove them altogether.

You can also choose to display broken links differently, and prevent search engines from following broken links
That's all folks! There are thousands of plugins that provide countless improvements and changes to WordPress, but these are the top 5. As always I will maintain this list to update any changes over time.