You want your blog to shine.
You write great content. You market it a bit. You engage your readers. But observe that there is a abnormally high bounce rate.
Of course it is a complex problem, but there is no need to get perplexed. Start with the most common problem of all – it may be just a problem with your blog performance.
It is easy and cheaper to host using a free hosting provider, or the cheapest service out there. It is easy to get carried away with images, videos, and the like while putting together content.
You can use images that are not optimized for the internet, thereby taking longer download times. You are using a shiny theme that has big CSS files to download, with cross references to external sites, and JavaScript that is executed sequentially. There are a bunch of things that you do mostly unintentionally that can slow down your page loads.
Increase in number of users aggravates the problem if your host cannot handle them. Every second counts and the seconds quickly add up when there is more load on the server.
Users are going to sit around after they click on the link from search engine, or from an external reference. When the site does not load, or takes longer time to navigate within pages, they are off to another website.
Since Google penalizes slower load times, you move back in the search rankings. You loose your readers since they are increasingly impatient, and because they do not find out in search results.
No, certainly not good news from any perspective.
Fortunately though, there are tools that can help you overcome this issue. Use one or all of them to monitor your blog performance, and check how your site fares.
GTMetrix
GTmetrix is one of the best tools to monitor performance. Completely web based, it piggy backs on the "proven" frameworks to get you a reliable picture. What more, GTMetrix has a basic version that is completely free of cost.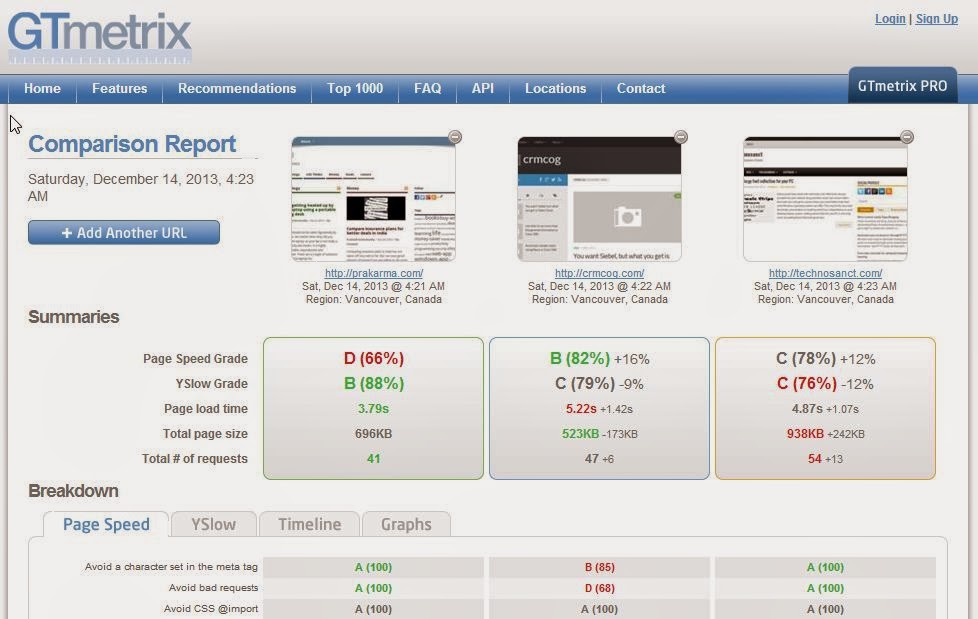 GTmetrix combines the goodness of YSlow (from Yahoo!) and PageSpeed (from Google), and provides a good overview of how you site fares. Without ever registering on their website,  you can view how your blog/website fares from the eyes of PageSpeed or YSlow for free. You can check what the performance is, check performance rankings for your website, and the reason for those rankings. 
You can also compare different blogs/websites from a performance perspective. This provides an easy way to compare your blog against competition, or even compare your own blogs.
With the free version, you can monitor 5 URLs and save up to 20 performance reports. You want more power, GTMetrix Pro is for you.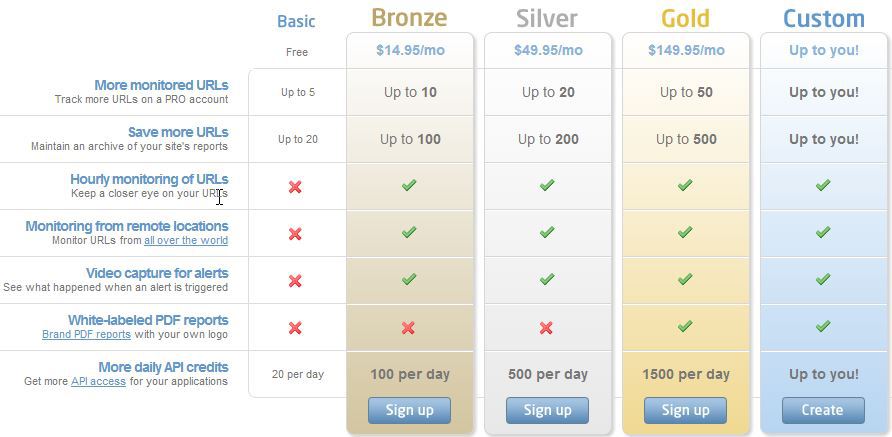 The pro version provides better features (obviously). A feature that stood out was the ability to record the performance during testing, and play it back later.
Keep a close eye on and continuously monitor your blog performance. Tools can monitor the performance and provide you reports and tips to solve the problem. Do not ignore the problem. Either fix it yourself, or get external help!
Do you know or use any other performance monitoring tools? Any sob stories from performance issues?