As we like to say it here – putting together content is half the job, while promoting that to the right audience is an equally challenging task. Social media sites provide a really powerful platform to push your content to an audience. Done in the right way, this results in an exponential cascade of your message. You also get to engage more closely with your audience to find out what sells and what doesn't.
A few posts back, we saw
one of the easier content publishing ways
using HootSuite. HootSuite provides all the social media windows in one big window, and simplifies the task of engaging with your audience. It is a big time saver for those who want to continuously monitor and improve their social status.
No matter how easy HootSuite is, it will still require of you to log in and post articles and comments. A typical workflow is:
Post article on website. Respond to comments on website (outside HootSuite)
Select social media sites where you want to cascade that article. Post link in HootSuite
Monitor comments on HootSuite, respond and engage the audience
For beginners (1) is somewhere on the horizon, while (3) will almost be non-existent. But, you cannot ignore social media because you do not have that audience today. Your posts get discovered, you get popular and you can be the next big thing in no time. So, a beginner has to post to social media sites for sure, but the engaging part does not take much of her time.
In other words, you want just publish the content on your website to *start* a conversation.
As always, there are tools to do that in WordPress, Drupal, and other popular blog/website platforms. We are here to talk about something as easier – 
dlvr.it
. You can easily and automatically publish content from blogs to social media using this web-based service.
 You just go the website, register yourself, configure a few things, and voila, your posts are aut-delivered to your social media sites.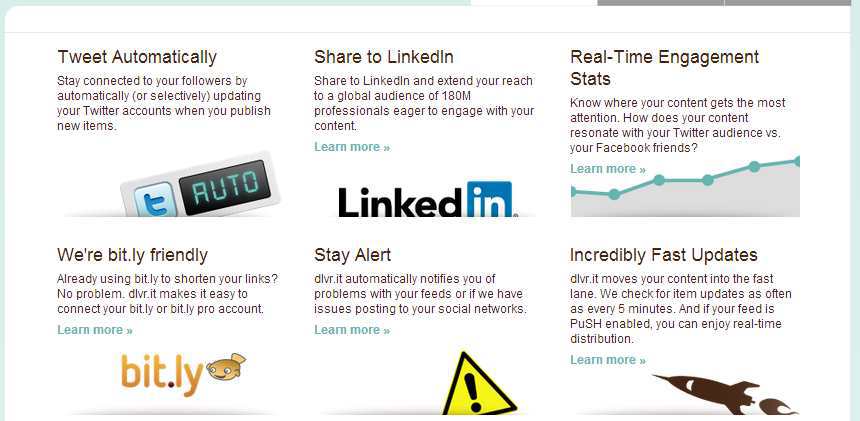 All this in 3 steps:
Specify the source.
The source in our case is the website itself. dlvr.it can automatically checks your blog feed to determine new content. All popular platforms have a feed. For example, technosanct.com

uses WordPress and the feed is available at

http://technosanct.com/feed

.

Specify the route.
Specify what to deliver and where. This includes the target information, and what content has to be published. The target can be Twitter, Facebook, or other popular sites. In our case we specify a Facebook page – http://facebook.com/technosanct.
Specify the delivery mechanism. 
Indicate at what times and in what frequency dlvr.it has to check source for new content. dlvr.it can also publish to queues maintained internally. The queues can drip feed your social sites.
If that is not amazing, what is!?
You can get started for free on dlvr.it. Just sign up, follow the above steps, and you are set to conquer social media. T
he free version gives you "5 Feeds, 3 Social Profiles, one Q, and your feed is updated every 30 minutes". For better options, and for connecting to social media sites like Google+ you need to have a
paid plan
 (starts at $10 per month that allows 50 social profiles).