Typography makes your work professional, and beautiful.
Reading on the internet is more about skimming content, and less about reading (apologies to a more avid reader). Fonts you choose have to facilitate that.
Fonts have to be big enough, and clear enough.
Your website should show  easily readable content, which has lot of white space, and is easily laid out to skim through information. This takes away about 10% of the work involved in making your users interested in the blog. The role of typography in it is not said enough.
Choose your font carefully to reflect the soul of your blog. It can be professional, funny or downright wierd. There is no one formula of getting it right – try iterations, invite readers to provide feedback, and stick to the finalized layout and font for an year or two.
Combined with the great content that you produce, your blog will become second to none!
Ok, I am ready. Can I choose fonts from my computer?
You will find all the fonts installed in your computer in "C:\windows\fonts" (for Windows), or an equivalent. But these are local to your computer. When you use fonts on the internet you want all your reader to see your blog the way you see it. You don't want them to see a different look if they do not have the same font installed.
As anyone in the field of internet technologies will tell you this was a difficult problem to deal with. Guys with blogs ended up choosing the most common fonts that are likely to be available on almost all computers. You must have seen these Arial, Times New Roman and the like in Microsoft Word or OpenOffice Writer. 
Web fonts fill this gap.
Web fonts are fonts that are available on the internet. When you use web fonts, your browser will detect the particular font, follow the URL to download the font to your computer, and show the content in that particular font. Since readers are viewing your content on the internet, their browsers will do the same thing.
How can I use web fonts? Think Typecast
Typecast
 can help you choose web fonts and provide instructions to incorporate that in your blog.
Typecast makes the tedious way of working through the typography really easy, and powerful at the same time. Typecast provides thousands of fonts that can be used across your website, or just for specific pages/sections.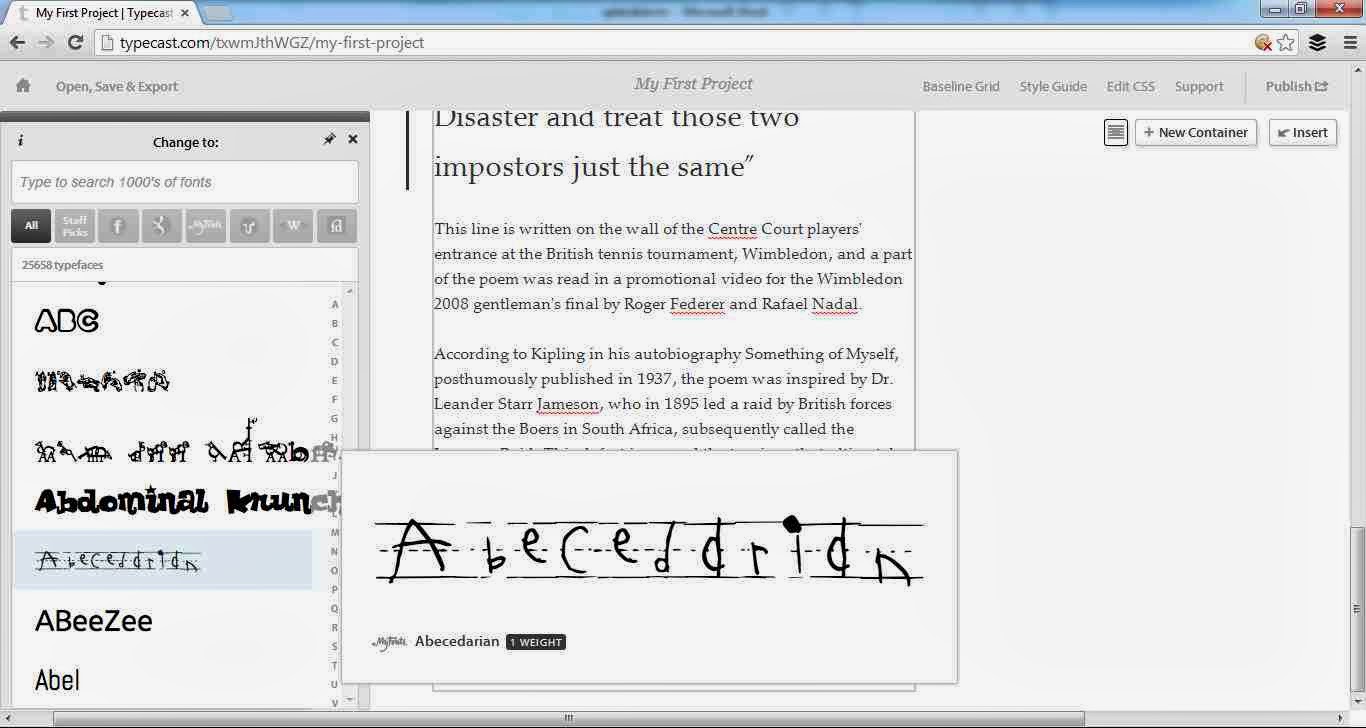 Choosing web fonts is the most difficult thing I have ever done.
Typecast makes it easy by not only listing the fonts, but also provides a way to see it in different type settings like bold, or in italics. Since the real power of fonts is only visible in sentences and paragraphs, Typecast also has options to type in the required content in a page and try the fonts. You can see how beautiful or ugly your content looks in 1,2 or 3 columns with an option to change line heights, text size, text color and background.
You can also edit the CSS for more customization, and see the results instantly.
After doing all this hard work it is easy to put this to work. You can do one or all of the following:
Get code that can be directly embedded in your website

Save CSS and HTML

Export as a graphic file (PNG)

Publish a style guide with the chosen colors, size, spacing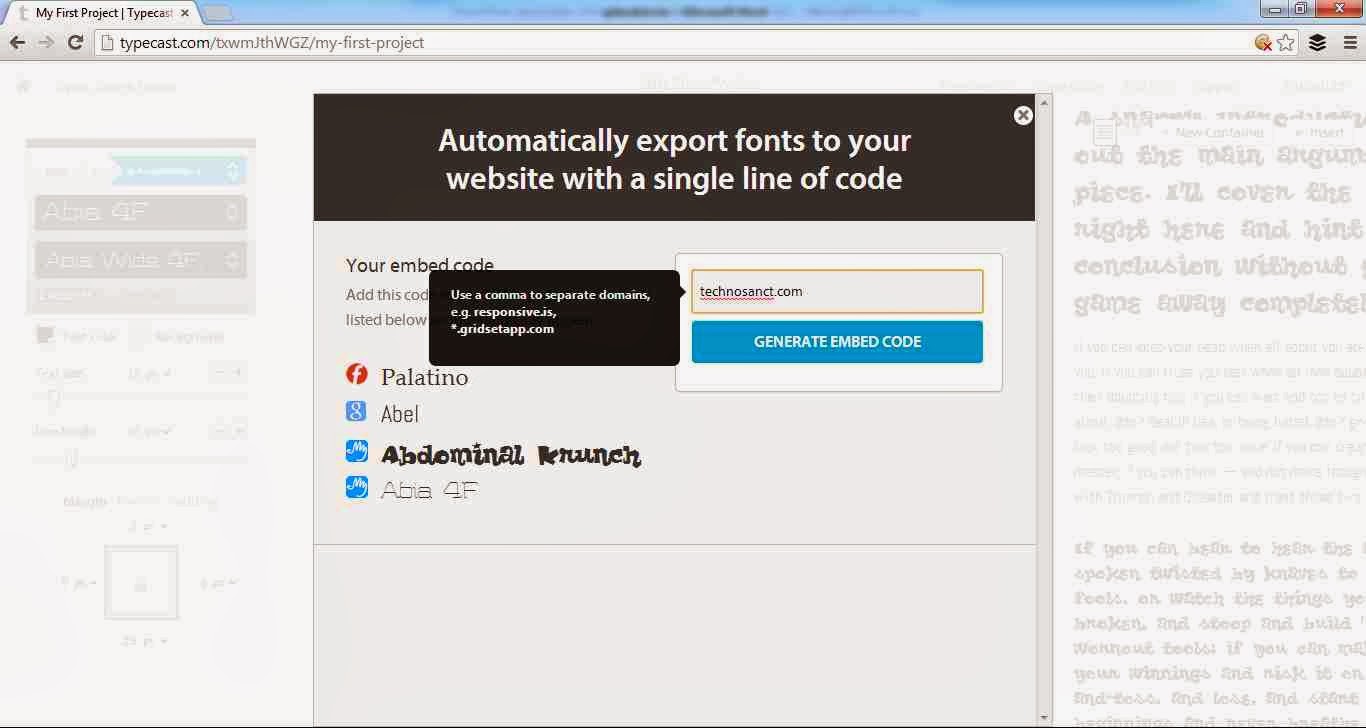 Like all good things (except for this blog), this comes at a cost. Typecast starts at $14.50/month for personal plans. You can get a 15 day trial by just providing your email id (no confirmation email!).
The Other Option: Google Fonts
If you are not in a position to spend hard cash, don't get disappointed yet. Head towards
Google Fonts
.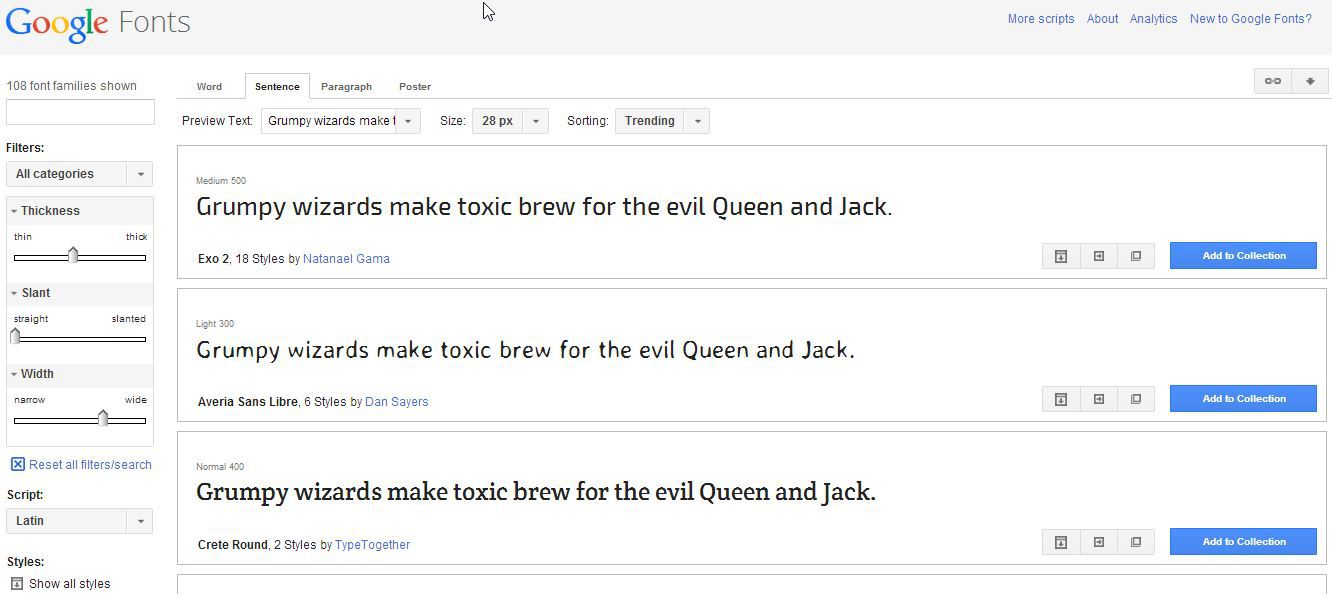 There are hundreds of web fonts that are free to use, and you by how much the fonts impact page load times. One of the other good things about this – you can click on "Popout" window for any of the fonts, and get to try how they look in Typecast.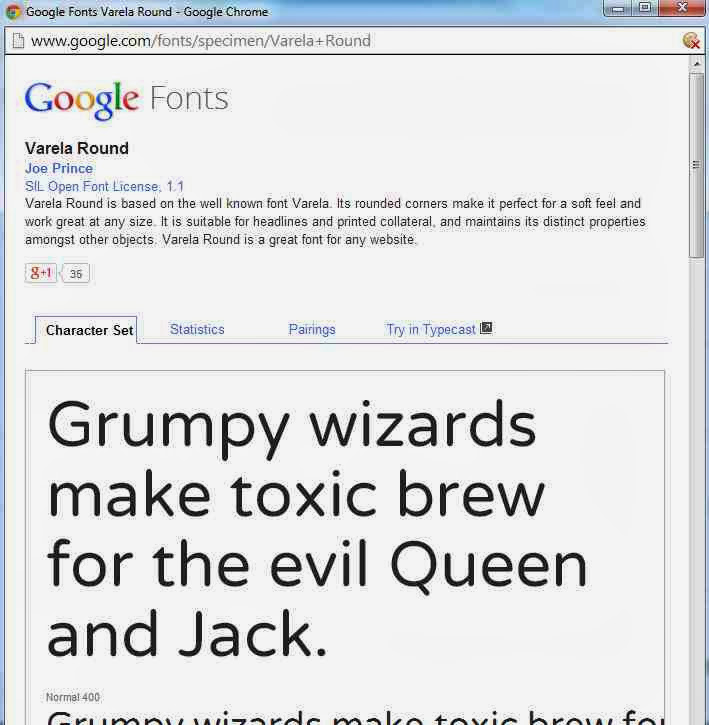 In Conclusion
Get beautiful fonts, and make your work unique and stand out. There are newer options for using web fonts, the future looks exciting for typography 🙂
But, don't overdo it.
Take note that web fonts have to be downloaded to show the content. That takes bandwidth and time, and make your website appear slower. You also do not want content arranged in a jigsaw puzzle.
Choose a maximum of three fonts for your content, and see your blog get even more popular (if that is possible at all).